State Inspections Coppell, TX
All Texas registered vehicles are required to receive an annual inspection. All inspections include a comprehensive safety inspection; however some vehicles are required to have an emissions test in addition to the safety inspection. Diesel powered vehicles and motorcycles are exempt from the emissions standards, but are still required to have the annual safety inspection.

Below is a list of safety items that are checked in order to receive a valid state inspection sticker: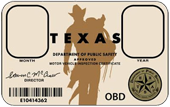 • Horn
• Windshield Wipers
• Mirrors
• Steering
• Seat Belts
• Brake System
• Tires
• Wheel Assembly
• Exhaust System
• Exhaust Emission System
• Beam Indicator
• Tail Lamps
• Stop Lamps
• License Plate Lamp
• Rear Red Reflectors
• Turn Signal Lamps
• Head Lamps
• Motor, Serial or Vehicle Identification Number
• Window Tint
• Gas Caps
• Financial Responsibility.

Emission inspection required for Denton County: Kwik Kar Coppell has a dynamometer that is required for emission tests on cars that are 1995 or older.